Peter Tosh
Children Of The Ghetto
Peter Tosh - Children Of The Ghetto - Discography - 1997-11-07 Music Vibes Promo Cd Complete Wailers Collection - Promo CD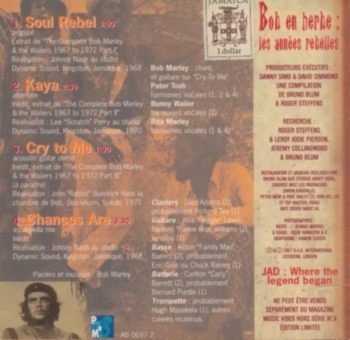 Album : 1997-11-07 Music Vibes Promo Cd Complete Wailers Collection - Promo CD
Promotional Material with Music Vibes Magazine.

This cd was a promo cd for a french magazine called "Music Vibes" wich nowdays doesnt exist anymore.

For years it was the only cd including this "Chances Are" version



Album Tracklist :



01-soul rebel (original) 3:50
02-kaya (alternate) 2:36
03-cry to me (acoustic guitar demo) 1:30
04-chances are (a capella mix) 3:30


Additional Informations And Comments :
- Liner Notes by Bruno 'Doc Reggae' Blum.




Back To Main Menu | Back To Discography Cds | Updates