Peter Tosh
Children Of The Ghetto
Peter Tosh - Children Of The Ghetto - Discography -2009 -The Ultimate Peter Tosh Experience Boxset - Shanachie Record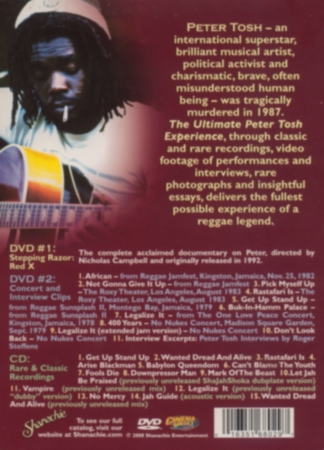 Album : 2009 -The Ultimate Peter Tosh Experience Boxset - Shanachie Record
Shanachie Records
Reference catalog : 6802
Projet Producer : Randall Grass
All Photos from Adrian Boot, Roger Steffens and Cinema Vault
Text by Roger Rojah Steffens, Randall Grass, Herbie Miller
Consultant A&R : Roger Rojah Steffens, Sam Dion, Herbie Miller



A boxset , including 2 Dvds and 1 audio cd, released in 2009 by Shanachie Records.



Album Tracklist : (Audio CD - Rare And Classic Recordings)



01-Get Up Stand Up
02-Wanted Dread And Alive
03-Rastafari is
04-Arise Blackman
05-babylon Queedom
06-Cant Blame The Youth
07-Fools Die
08-Downpressor Man
09-Mark Of The Beast
10-Let Jah Be Praised (unreleased Shajahshoka dubplate version)
11-Vampire (unreleased mix)
12-Legalize It (unreleased dub version)
13-No Mercy
14-Jah Guide (acoustic version)
15-Wanted Dread And Alive (unreleased Mix)

The Boxset include a very nice booklet of 31 pages in color.

The 2 dvds will be inside the videography section of this website.


Additional Informations And Comments :
- 1 word : Crucial


Back To Main Menu | Back To Discography Cds