Peter Tosh
Children Of The Ghetto
Peter Tosh - Tour Dates -1981-08-31 Commodore Ballroom, Vancouver, Canada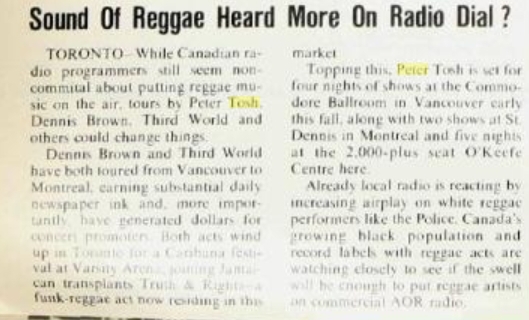 Date : 1981-08-31
Concert : Commodore Ballroom, Vancouver, Canada


Peter Tosh & Word Sound And Power, concert in Vancouver, Canada.

Article from Billboard Magazine, who's telling us about the tour dates in Canada.
2 shows at The Commodore Ballroom, 2 show at St Dennis Theater , 5 shows at O'Keefe Center.


Additional Informations And Comments :
- Audio Never Surfaced.
- Original Article From Billboard Magazine, , published 1981-08-29.


Back To 1981 | Back To Tour Dates