Peter Tosh
Children Of The Ghetto
Peter Tosh - Tour Dates - 1980-07-02 to 1980-07-05 Reggae Sunsplash 3 , Ranny Williams Entertainment Center, Kingston, Jamaica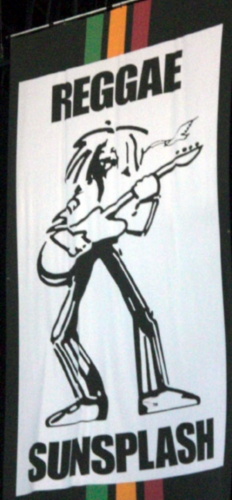 Date : 1980-07-02 to 1980-07-05
Concert : Reggae Sunsplash 3 ,Ranny Williams Entertainment Center, Kingston, Jamaica
Source : Tape , Audience
Songs : 13
Lossless : Yes
Lenght : 86:20 mn





The Reggae Sunsplash festival was the brainchild of four Jamaicans Tony Johnson, Don Green, Ronnie Burke and John Wakeling.

The four founding directors created a company called Synergy Productions Ltd, which was responsible for promoting and producing the Reggae Sunsplash festival.

The first Reggae Sunsplash festival was staged at Jarrett Park, Montego Bay, Jamaica in June 1978 and began at dusk and continued until dawn for seven days.
It was billed as the "biggest Reggae festival in the history of the world".



Informations About The Setlist :
01-introduction 2:11
02-400 years 4:18
03-steppin razor 4:05
04-african 5:03
05-im the toughest 4:54
06-bush doctor 7:15
07-speech 14:04
08-dont look back 4:25
09-get up stand up 6:50
10-recruiting soldiers 5:22
11-hammer 6:10
12-babylon queendom 10:01
13-buk-in-ham palace 11:36


Additional Informations And Comments :
- This even taking place into Ranny Williams Entertainment Center, Kingston while before the RSS was hosted at Jarrett Park

- Preservation Was1

Back To 1980 | Back To Tour Dates